MINI CRAB CAKES ON ENDIVE LEAVES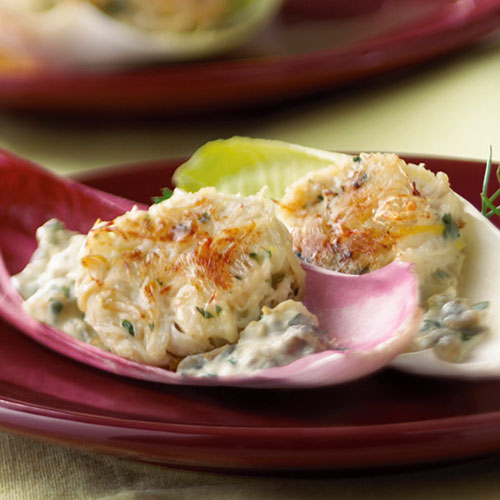 24 servings of 1 appetizer

INGREDIENTS
1 lemon
1 can (8 oz/250 g) lump crabmeat, drained and patted dry
6 tbsp (90 mL) finely chopped fresh fennel, divided
1/4 cup (50 mL) finely chopped fresh parsley, divided
3 tbsp (45 mL) finely chopped shallot, divided
1 tbsp (15 mL) Dijon mustard, divided
1/2 cup (125 mL) sour cream, divided
1 tbsp (15 mL) all-purpose flour
1/2 tsp (2 mL) salt
2 tbsp (30 mL) capers, chopped
3-4 heads Belgian endive (24 leaves)
DIRECTIONS
Zest lemon using Microplane® Adjustable Fine Grater to measure 1⁄2 tsp (2 mL) zest. Juice lemon to measure 2 tsp (10 mL) juice. Combine zest, juice, crabmeat, 2 tbsp (30 mL) of the fennel, 2 tbsp (30 mL) of the parsley, 1 tbsp (15 mL) of the shallot, 1 tsp (5 mL) of the mustard, half of the sour cream, flour and salt in Classic Batter Bowl; mix gently.
Using Small Scoop, drop 24 scoops of crabmeat mixture onto parchment paper; form into 1-in. (2.5-cm) disks. Spray (12-in./30-cm) Skillet with vegetable oil. Place crab cakes into Skillet; cook over medium heat 4-6 minutes or until golden brown and crisp, turning once. Remove crab cakes from Skillet; drain on paper towels.
Combine remaining fennel, parsley, shallot, mustard, sour cream and capers in Small Batter Bowl. Trim stem ends of endive to measure about 3 1⁄2-4 in. (9-10 cm) long. Spread sauce evenly over endive leaves; top with crab cakes.
Calories 20, Total Fat 1 g, Saturated Fat .5 g, Cholesterol 10 mg, Carbohydrate 2 g, Protein 2 g, Sodium 160 mg, Fiber 0 g