GUAJILLO SHRIMP AND AVOCADO TOSTONES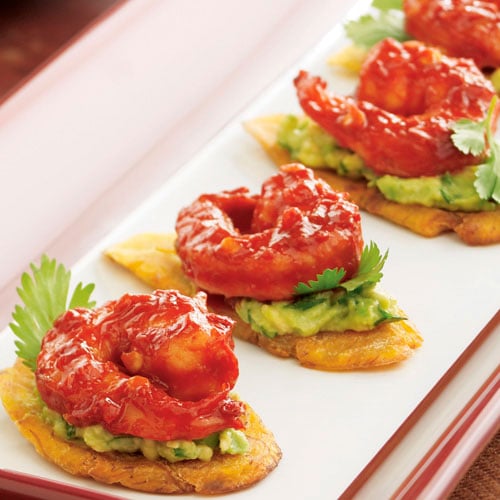 Yield:20 appetizers servings of 1 appetizer
INGREDIENTS
8 dried guajillo peppers, stemmed
4 cups water
2 tbsp honey
1 garlic clove, peeled
3/4 tsp salt, divided
2 medium green plantains, peeled
1/4 cup vegetable oil, divided
20 uncooked large shrimp (21-25 per lb), peeled and deveined
1 avocado, peeled and seeded
2 tbsp finely chopped fresh cilantro
1 tbsp lime juice
Additional chopped fresh cilantro (optional)


DIRECTIONS
Place peppers and water into Large Micro-Cooker®; microwave, covered, on HIGH 6-8 minutes or until soft. Reserve 1 cup of the liquid; drain remaining. Place peppers, 1/2 cup of the reserved liquid, honey, garlic and 1/2 tsp of the salt into blender. Blend until a smooth paste forms, adding additional reserved liquid as needed. Press paste through (5-in.) Strainer; set aside.
Cut plantains on a bias into twenty 1/4-inch-thick slices. Heat half of the oil in (10-in.) Skillet over medium heat 1-3 minutes or until shimmering. Cook plantains in two batches 3-4 minutes or until light brown, turning once. Flatten plantains with flat side of Meat Tenderizer. Add remaining oil to Skillet; cook plantains again in two batches 3-4 minutes or until crisp, turning once. Transfer tostones to serving platter. Add shrimp to Skillet; cook 3-4 minutes or until cooked through, turning once. Remove Skillet from heat and stir in pepper paste.
Combine avocado, cilantro, juice and remaining salt in Small Batter Bowl; mash using Mix 'N Masher. Top tostones with avocado mixture and shrimp; garnish with additional cilantro, if desired.
Calories 90, Total Fat 4.5 g, Saturated Fat 0 g, Cholesterol 10 mg, Carbohydrate 10 g, Protein 4 g, Sodium 170 mg, Fiber 1 g