APPLE-BRANDY SKILLET CAKE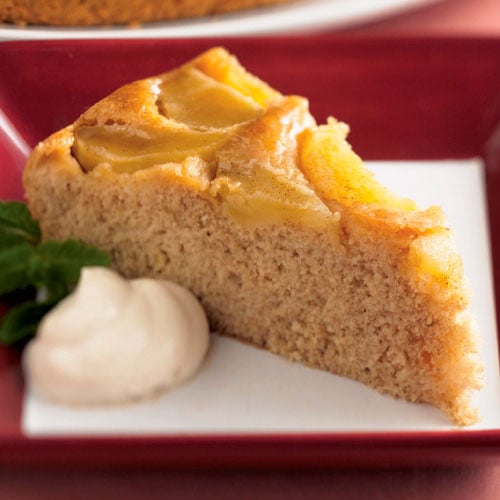 Yield:

16 servings
INGREDIENTS
5-6 small Granny Smith apples, peeled (about 6 cups wedges)
3/4 cup plus 2 tbsp packed brown sugar, divided
7 tbsp butter, melted, divided
1/2 cup plus 2 tbsp brandy, divided
1 pkg (18.25 oz) butter recipe yellow cake mix
1 cup apple butter
1/2 cup water
3 eggs
2 tsp ground cinnamon, divided
1 cup heavy whipping cream
DIRECTIONS
Preheat oven to 350°F. Cut apples into wedges using Apple Wedger. Melt 3/4 cup of the sugar and 6 tbsp of the butter in Executive (12-in.) Skillet over medium heat (do not use stainless). Add apples; cook 3-4 minutes or until apples are slightly tender. Remove apples from Skillet. Pour leftover cooking liquid into Small Batter Bowl. For sauce, add 1 tbsp of the brandy to batter bowl; set aside.
Wipe out Skillet. Brush sides of Skillet and one side of 11-in. circle of Parchment Paper with remaining butter. Place parchment into Skillet butter side up. Arrange apples in circles over parchment. Combine cake mix, apple butter, 1/2 cup of the brandy, water, eggs and 1 1/2 tsp of the cinnamon in Stainless (4-qt.) Mixing Bowl; mix according to package directions. Pour batter over apples. Bake 30-34 minutes or until wooden pick inserted into center comes out clean. Remove from oven; cool in Skillet 5 minutes. Carefully invert onto serving platter.
In Stainless (2-qt.) Mixing Bowl, beat cream on high speed of electric mixer 1-2 minutes or until soft peaks form. Add remaining brown sugar, brandy and cinnamon. Beat 2-3 minutes or until stiff peaks form. Serve cake with sauce and cream.
Calories 360, Total Fat 14 g, Saturated Fat 8 g, Cholesterol 75 mg, Carbohydrate 51 g, Protein 3 g, Sodium 280 mg, Fiber 1 g